What is the smallest and largest size of the pearls ?
A pearl's size is expressed in terms of its diameter, which is measured in millimeters (mm). Pearls can be smaller than 1 mm and as large as approx. 20 mm.
Is the ring size is common among countries?
Kindly note that with different designs, ring may not be the same size or fit exactly on finger. We do recommend you to try on before purchasing. A ring chart below for your reference.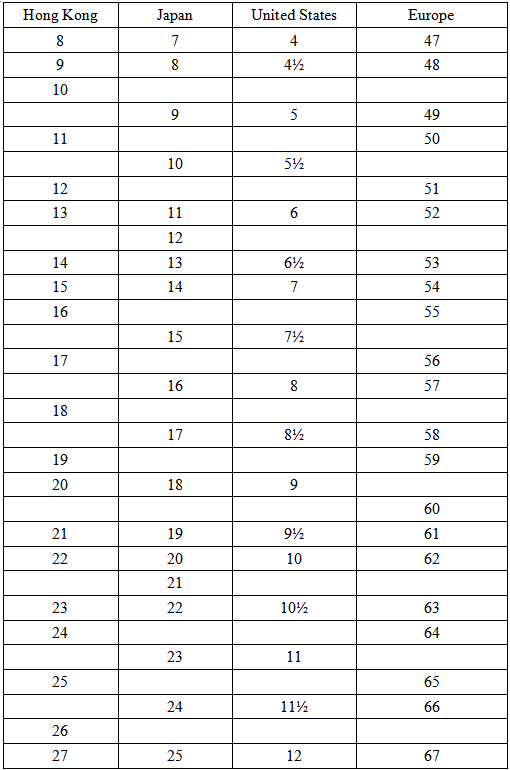 Is it possible to adjust the ring size if it is not fit?
Adjust or re-size is possible with fee applied and it may take 4-5weeks for adjustment.
Are the Black Pearls Dyed?
Black Freshwater pearls and Black Japanese Akoya pearls are color enhanced. They are NEVER naturally black.
If you are looking for naturally black pearls, then TAHITIAN Pearls are the only pearls that are Naturally Black.
Do pearls break?
Thin nacre on Akoya pearls may crack or peel. This is why nacre depth on Akoya pearls is so important. Our Akoya pearls are high quality, having a thicker nacre, and will not peel. Freshwater, Tahitian and South Sea pearls would need to be smashed with a hammer to break them.

Metal Purity
Silver Jewellery stamped with 925 for silver, the purity of silver parts is 92.5% pure silver.
Yellow Gold / White Gold Jewellery stamped with 585 or 750 for gold alloy, the purity of gold parts is 58.5% or 75% pure gold in separately.
If lost a earring, can I purchase a earring instead of a pair?
You may contact us to check whether it is able to re-create a new one. Please note that the feasibility for re-creating is decided by the earring's materials.
Should the pearl strands or necklace need to restring after purchasing?
GYSO's pearl strand is strung with a special Japanese thread. However, the thread's tenacity may wear out in time and we recommend re-string the thread every year.
Local Delivery (Hong Kong only)
We offer free SF Express for under USD65 each order (HONG KONG only); Below this amount, we would recommend you to pick up the goods at our office or using pay on delivery by SF Express.
Notice of picking up the goods at the store
When the goods are successfully purchased and buyer has chosed to pick up at store, we will notify to you via email within 5 working days about the date and time of collection. Please ensure that you have a valid and correct email address. Buyers must pick up the goods within 14 days (include holidays) after receiving the email. If the goods are not being pick up before the date we provided, We will not send out further notice and will not provide any related storage services. We shall not responsible for any loss if you do not pick the goods within the certain period of time.
Buyer must bring the invoice and the original identity document to the store during the office hours for collecting the goods. If authorise by others, the trustee must present original and copy of identity document and a copy of the buyer's identity document with the invoice. If insufficient document provided, we will not able to give out the goods. In case of any dispute of the above, Gyso Pearls & Jewellery Ltd. reserves the final decision.
How to download NFC United Apps ?
You may click the following to download , please note this application only available for iPhone 7 above and Android phone.