What is the smallest and largest size of the pearls ?
A pearl's size is expressed in terms of its diameter, which is measured in millimeters (mm). Pearls can be smaller than 1 mm and as large as approx. 20 mm.
Is the ring size is common among countries?
Kindly note that with different designs, ring may not be the same size or fit exactly on finger. We do recommend you to try on before purchasing. A ring chart below for your reference.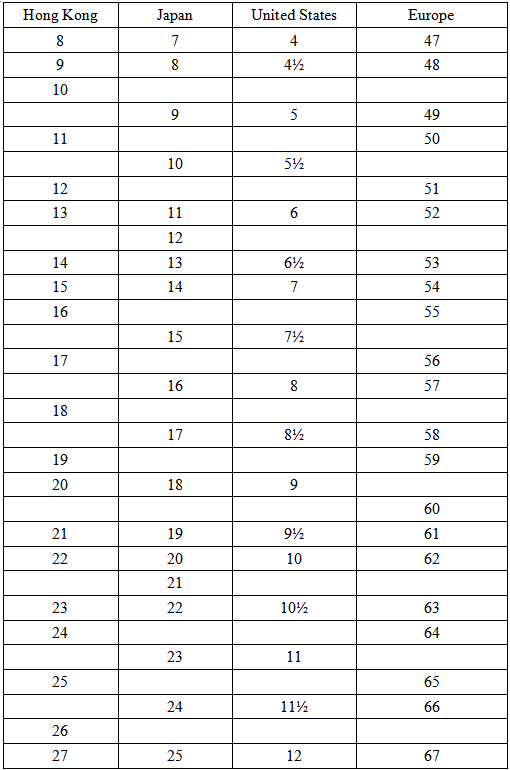 Is it possible to adjust the ring size if it is not fit?
Adjust or re-size is possible with fee applied and it may take 4-5weeks for adjustment.
Are the Black Pearls Dyed?
Black Freshwater pearls and Black Japanese Akoya pearls are color enhanced. They are NEVER naturally black.
If you are looking for naturally black pearls, then TAHITIAN Pearls are the only pearls that are Naturally Black.
Do pearls break?
Thin nacre on Akoya pearls may crack or peel. This is why nacre depth on Akoya pearls is so important. Our Akoya pearls are high quality, having a thicker nacre, and will not peel. Freshwater, Tahitian and South Sea pearls would need to be smashed with a hammer to break them.
If lost a earring, can I purchase a earring instead of a pair?
You may contact us to check whether it is able to re-create a new one. Please note that the feasibility for re-creating is decided by the earring's materials.
Should the pearl strands or necklace need to restring after purchasing?
GYSO's pearl strand is strung with a special Japanese thread. However, the thread's tenacity may wear out in time and we recommend re-string the thread every year.